Page last reviewed: 19 Dec 2018
Payday loans are very expensive and should be used to address only short-term, not long-term, financial needs. Legal info, including your rights, could be found on page Payday loans in Indiana.
Contents:
Payday loans calculator
Overall one company offers payday loans in Camby. In addition two companies provide payday loans online.
Payday loans APR, $600 loan for 14 days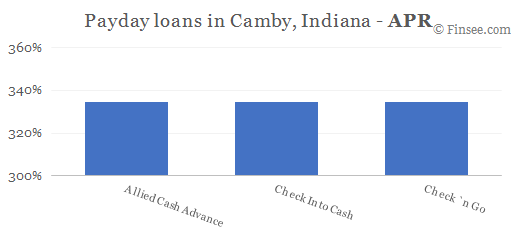 Payday loans maximum amount
Addresses and telephones of companies in Camby
Allied Cash Advance – 1 location.
Address– 8411 Windfall Lane, Suite 180/Unit G, Camby, IN 46113
Hours of operation – Monday – Thursday 10:00 a.m. – 6:00 p.m., Friday 10:00 a.m. – 7:00 p.m., Saturday 10:00 AM – 2:00 PM
Local phone – (317) 821-8121
Apply online.
Companies offering online payday loans in Camby
Summary
Article Name
Payday loans review in Camby, Indiana
Author