Page last reviewed: 22 Apr 2019
Payday loans are very expensive and should be used to address only short-term, not long-term, financial needs. Legal info, including your rights, could be found on page Payday loans in Florida.
Contents:
Payday loans calculator
Overall two companies offer payday loans in Daytona Beach. In addition five companies provide payday loans online.
Payday loans APR, $500 loan for 14 days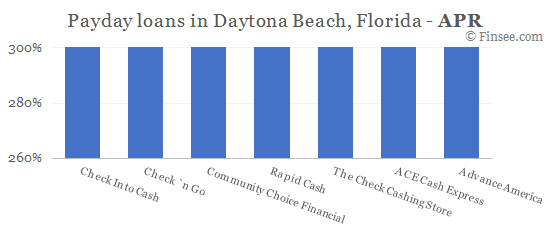 APR depends on the loan amount and could be up to 417.14% for $50 loan issued for 14 days.
Payday loans maximum amount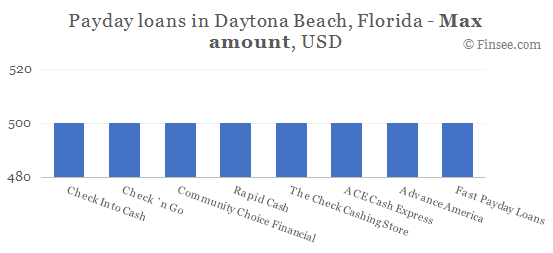 Addresses and telephones of companies in Daytona Beach
ACE Cash Express – 1 location.
Address – 833 N Ridgewood Ave, Daytona Beach, FL 32114
Hours of operation – Monday -Friday 8:00 am to 8:00 pm, Saturday 9:00 am to 7:00 pm, Sunday 10:00 am to 4:00 pm
Local phone – (386) 254-8940.
Apply online.
Advance America – 1 location.
Address – 1352 W International Speedway Blvd, Daytona Beach, FL 32114,
Hours of operation – Monday – Saturday 9:00 AM – 7:00 PM
Local phone – +1 386-255-4660.
Apply online
Companies offering online payday loans in Daytona Beach
Summary
Article Name
Payday loans review in Daytona Beach, Florida
Author